THE
SPOTTED OWL
TAVERN
QUALITY COCKTAILS & LOCALLY SOURCED FOOD
211 Avenue A, New York CITY
Located in the heart of New York City's East Village at 211 Avenue A on the corner of 13th St.
Known for it's friendly and attentive staff, warm ambiance, antique decor and for serving both domestic as well as craft ales, stouts and ciders, custom and classic cocktails, a carefully selected wine list and gourmet pub fare and comfort food prepared with fresh organic ingredients, locally sourced when available.
The Spotted Owl Tavern has plenty of seating available making it an ideal location whether you are looking for a quiet drink and a bite to eat, celebrating a birthday or for place to take a date and is also available for private events.
Sides, Snacks, & Appetizers
$

10
Big House Salad
arugula or mixed greens, peppers, cucumber, ripe tomato, carrots, olives, and choice of dressing: apple vinegrett, balsamic vinegrett, ranch, or blue cheese
add grilled or fried chicken breast - $4
two for $7 / three for $10
Empanadas
chicken or beef
two for $7 / three for $10
$

11
Guacamole and Chips
fresh avocado, tomatoes, jalapeño, red onion, cilantro
$

8
Chicken Fingers
breaded chicken strips
$

7
Applewood Smoked Bacon
$

6 each
Sides
French Fries, Side Salad, Seasonal Vegetables w/ Garlic and Olive Oil
Sandwiches
All sandwiches served with fries
substitute onion rings for an additional $2 or salad for an additional $3
$

12
Chicken Filet
grilled or fried chicken breast, bread & butter, pickles, aioli
add cheese - 1
add bacon or fried egg - 2
$

14
Chicken Parmesan Hero
fried chicken breast, home made tomato sauce, fresh mozzarella and basil on rustic Italian bread
$

14
Meatball Parmesan Hero
meatballs, tomato sauce, fresh basil, fresh mozzarella
$

14
Portobello Sandwich
grilled balsamic marinated portobello mushrooms, probolone, roasted peppers, baby arugula, fresh basil,ripe tomato, spicy aioli, served on an artisanal roll
$

16
Rigatoni Bolognese w/ Meatballs
rigatoni in a ground beef and pork ragu, tomato sauce, garlic, herbs, meatballs, ricotta, fresh basil, shaved parmigiano reggiano
$

11
Meatballs
four ground beef meatballs, tomato sauce,
ricotta, fresh basil, parmesan
$

11
The Spotted Owl Wings
herbed buttermilk brined wings in a cornmeal batter,
sweet and spicy chili sauce, blue cheese dressing
Burgers
all burgers served with fries
substitute onion rings for 2 or salad for 3
$

14
Half Pound Burger
8oz grass fed beef, choice of cheese, house
made pickle and ketchup
$

14
Turkey Burger
fresh ground turkey, jalapeño, house brined pickle,
parsley, house tzatziki on side
$

15
Mushroom Burger
8oz grass fed beef, topped with
sautéed portobello mushrooms
$

2 each
+add fried onions, avacado, fried egg, bacon
$

1 each
+add american, mozzarella, provolone, swiss, or cheddar cheese
El Cubano
ham, cheddar, swiss, spicy aioli, house pickles, and mustard
Weathered Fries
french fries, chorizo, mourney, chilies, scallions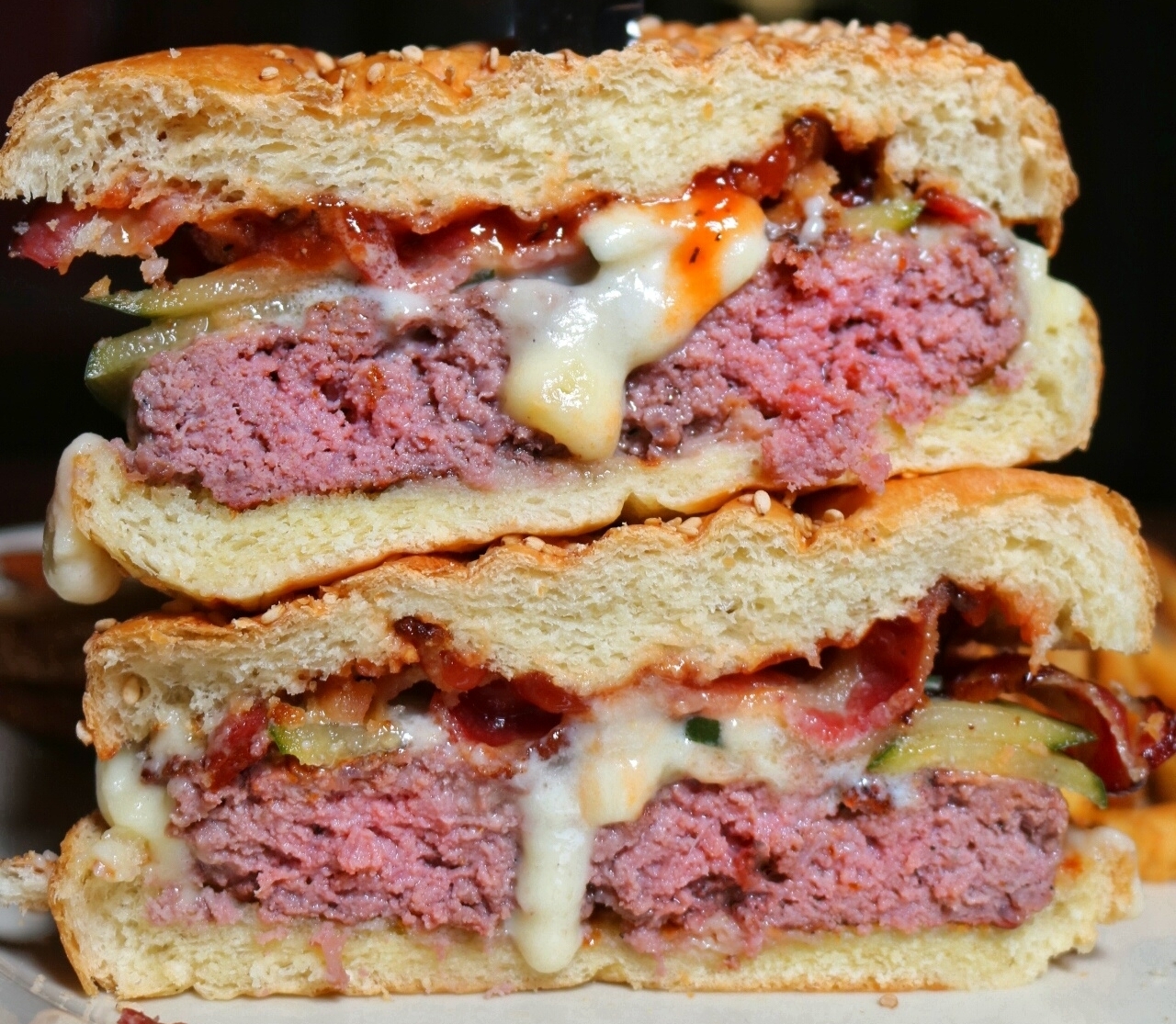 Half Pound Burger
80z grass fed beef, house brined pickle, cheddar cheese sauce, house ketchup
Meatballs
four ground beef meatbals, tomato sauce, ricotta, fresh basil, parmesan
Brunch Burger
8oz grass fed beef, fried egg, bacon, cheddar sauce, house brined pickle, house ketchup
The Spotted Owl Wings
herbed buttermilk brined wings, cornmeal batter, served in a sweet and spicy chili sauce with blue cheese dressing
Brunch Burrito
scrambled eggs, cheddar, black beans, greens, tomato, creme
Rigatoni Bolognese w/ Meatballs
rigatoni, ragu of fresh ground beef and pork, tomato sauce, garlic, herbs, meatballs, ricotta, fresh basil, shaved parmigiano reggiano
Fried Egg Grilled Cheese Sandwich
fried egg, swiss, cheddar, prosciutto house pickles, parmesan crust
Meatball Parmesan Hero
three meatballs, tomato sauce, fresh basil, fresh mozzarella
Spring Salad
arugula, parmesan, dried sour cherries, almonds, apple vinaigrette
Shrimp Taco
sauteed shrimp, garlic, cilantro, jalapeño, lime, sour cream, avocado
Steak & Eggs
new york strip steak, roasted garlic, herbs, two fried eggs
Shrimp Parmesan Hero
fried shrimp, homemade marinara, fresh mozzarella, basil
Portobello Sandwich
grilled balsamic marinated portobello mushrooms, provolone, roasted red peppers, baby arugula, basil, tomato, spicy aioli, served on an artisanal roll
Chicken Filet
grilled or fried chicken breast, bread & butter pickles, aioli
Fried Egg Grilled Cheese Sandwich
fried egg, swiss, cheddar, prosciutto house pickles, parmesan crust
Corazon de Pollo
roasted chicken hearts marinated in fresh onion, garlic, rosemary, and olive oil, topped with scallions, sour cream, and fresh parmesan
BRUNCH
All brunch items served with roasted potatoes
$

10
The Spotted Owl Egg Sandwich
two fried eggs, swiss, onions, garlic, bacon, arugula
$

15
Brunch Burger
8oz grass fed beef, fried egg, bacon, cheddar sauce, house brined pickle, house ketchup
$

11
Tavern Omelette
eggs, spinach, mushrooms, cheddar, sour cream
$

11 burger + fries
Friday
brunch specials
Saturday
brunch specials
$

15 pasta & wine
brunch specials
Sunday
$
15 pasta & wine
brunch specials
$

12
Jalapeño Margarita
el jimador silver, fresh lime, triple sec, jalapeño
$

12
Paloma
el jimador silver, grapefruit soda, fresh lime
$

12
Last Word
hendricks gin, green chartreuse, maraschino liquor, fresh lime
$

12
Hemmingway Daiquiri
cruzan rum, maraschino liquor, grapefruit, fresh lime
$

12
Moscow Mule
tito's vodka, ginger beer, fresh lime
$

12
Whiskey Sour
buillet bourbon, lemon, simple syrup
$

7 any draught
$4 happy hour
DRAUGHT BEER
$
7 any draught
$4 happy hour
Coney Island Mermaid Pilsner
21st Amendment Hell Or High Watermelon
$

7
Crabbie's Alcoholic Ginger Beer
$

9
Station Cabernet Sauvignon
$

8
Pietra Majella Montepulciano d'Abruzzo
$

8
The Post Stones Shiraz
$

9
Station Sauvignon Blanc
$

9
Villa Chiopris Pinot Grigio
$

8
Sophia Coppola Blanc de Blancs Sparkling White
$

10
Domaine St Eugenie Rose